We can undertake any aspect of welding and fabrication including designs for steel gates & railings for customers throughout Wales.
JR Fabrications has been trading for over 11 years and we can provide the very best quality welding and metal work manufacturing services.
We serve a large client base, including domestic, building contractors,manufacturing industry businesses, & local authorities across Carmarthenshire, Pembrokeshire, Mid Glamorgan and beyond.
Returning clients are testament to our work and our trademark is our commitment to the highest standards of workmanship at very competitive rates.
JR Fabrications is proud of its outstanding reputation for value, quality and focus on customer service. Our testamonial page is support of the service which you can expect.
Whether it's steel gates,railings , metal fabrication or vehicle repairs, you can rely on us for quality and value.
At JR Fabrications we are able to fabricate anything from steel and are experienced in making a wide variety of gates, railings, glass balustrades, staircases, balconies as well as many other steel items.
Because we are steel fabricators we make everything from scratch and to individual specification, this means that you can have exactly what you want in the size and shape your need it.
We fully brief and cost everything before we start so there will be no nasty surprises along the way.
We offer a 24hr callout service for any emergency repairs or anything else.
Jason has undertaken a couple of bespoke projects for me at the Heritage Park in Stepaside and I'm more than happy with outcome. The works have now been admired by many people who have all commented on how well they look, I would thoroughly recommend anyone to use JR Fabrications as Jason really knows what he is doing.
Craig Godfrey
The Heritage Park, Pembrokeshire
Jason of JR Fabrications left school and trained at DTEO Ministry Of Defence (MOD) Camp in Aberporth where he learnt his trade in Welding & Electronics, whilst working for the MOD he also gaining experience in Fabrication & Machining, he also gained a BTEC 1st Cert in Engineering from Coleg Ceredigion.
After leaving Aberporth Jason carried on gaining welding qualifications at Pibwrlwd College in Carmarthen, since then he has worked for some large and small steel construction companies throughout Wales gaining experience in many different aspects of steel fabrication and welding,
In 2007 Jason made the decision to start JR Fabrications and since then he has grown his client base considerably from lone projects to submitting large tenders to several Local Authorities and winning then off the merit of his workmanship and cost projections, he is happy that he made the decision to go it alone as it has given him the opportunity to work on some fantastic projects where he has put his skills and artistic flare to good use.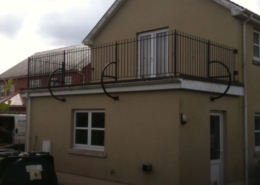 Take a look at the range of balconies & staircases JR Fabrications can supply you with.